by Craig Ward of Lundie MSc solicitor
Following remarkably swift efficacy trials three covid-19 vaccines are available in the UK. Each offers an amount of protection and as with any other vaccine comes with cautions. In most instances patients will consent themselves for vaccination. Individuals lacking capacity are subject to section 4 Mental Capacity Act (MCA) - is this vaccination in their best interests. This decision can be made for them using their health and welfare (HW) lasting power of attorney (LPA) or HW deputyship. Alternatively by health care professionals if their is no HW LPA or HW deputyship.
Currently Available Vaccines
The three available vaccines in the UK are; the Pfizer/BioNTech, the AstraZeneca and Moderna. Like with any medical intervention individual patients may react differently. Common vaccines side effects include; headaches, nausea, myalgia (muscle pain) and arthralgia (joint pain) or chills. As with other vaccines there is no complete guarantee of protection. The Pfizer and BioNTech covid-19 vaccine offers an average efficacy of 95% (range 90.3% to 97.6%) efficacy after the second dose. The second dose administered 3 to 12 weeks later. The AstraZeneca vaccine offers average of 70% efficacy, (range 62% to 90%) after the second dose. The second dose administered after 4 to 12 weeks. The Moderna vaccine provides an average efficacy of 94% efficacy (range 89.3% to 96.8%) after the second does which should be given 28 days after the first dose.
All three clinical trials report a lower efficacy with only one vaccine dose. The clinical research community's discussions (available online) show differences in their understanding of these efficacys following the first vaccine dose. The question being what is the percentage protection from one vaccine and how does this increase over time. What is agreed is that there is a reduced protection with one vaccine dose which increases following the second vaccine dose. There is also as yet little or no clinical evidence in regard to receipt of multiple covid-19 vaccines.
There are contra-indications for vaccination. If a person has previously had severe reactions to vaccination, is suffering from acute severe febrile illness (a rapid onset of fever), receiving anticoagulant therapy or immunosuppressant therapy they should seek medical advice before taking a covid-19 vaccination. Their doctor may advise against taking a covid-19 vaccine.
Consent
In most instances patients consent themselves for vaccination. When someone lacks sufficient capacity to make health and welfare decisions for themselves, their HW LPA attorneys or HW deputy consents on their behalf. Consent derives from MCA section 3 and case law being issue and time specific. The issue being do they want to be vaccinated against covid-19 and can they understand sufficiently at this time to decide? This is not to say the HW attorney or HW deputy should automatically step in and make decisions. All decision makers must as far as is reasonably practicable, permit and encourage the person lacking capacity to participate or improve their ability to participate in decisions. HW attorneys and HW deputies should try in straightforward language to explain the advantages and disadvantages, together with the procedure of being vaccinated to the person lacking capacity to enable them to be included in the decision making process.
Sufficient Capacity
The MCA section 3 determines if someone is able to make a decision. Are they are unable, (a) to understand the information relevant to the decision, (b) retain that information, (c) use or weigh that information as part of the process of decision making, (d) communicate their decision. Where they are not able to understand, retain or weight up or communicate their decision, decisions can be made in their best interest.

A decision maker determining a patient's capacity to decide to be vaccinated should be made on the basis of do they; a) consent to receive one of the covid-19 vaccines b) consent to the vaccination process, that is being injected once and/or twice, c) understand the vaccine's benefits, d) appreciate the vaccine's side effects and risks, e) understand the consequences of not receiving a covid-19 vaccine.
Demonstrating sufficient capacity also includes understanding government views of delaying the second vaccine dose. The vaccine clinical trials expectation is that patients receive two doses separated by a specified period of time. The consequences of the second dose delay would be reduced covid-19 protection.
Determining best interests
What is in someone's best interests is determined by section 4 MCA. Central to this is the person's own views and wishes, their beliefs and values. Even in circumstances where it is not exactly what the patient would have consented to having had capacity. Best interests can also be determined from, if practical and appropriate to consult, individuals named by the person lacking capacity such as their HW LPA attorneys. Also people interested in their care such as their HW deputy. A key part of acting in someone's best interest is to include the person lacking capacity and to assist them to improve their ability to make decisions.
Misleading Information
Not all publicly available information is equally reliable. If there are concerns the beliefs of the person lacking capacity should be determined regarding the benefits of a covid-19 vaccine and what may have influenced these. In MM [2007] EWHC 2003 (Fam) Munby J as he was then held that, "if one does not believe a particular piece of information then one does not, in truth, comprehend or understand it, nor can it be said that one is able to use or weigh it. A useful discussion with the person lacking capacity might be, do they understand the consequences of declining a the covid-19 vaccine?
Abuse
Decision makers must be aware of potential undue influence or abuse. As well as is control or coercion being engaged by someone for their own personal benefit.
Vaccinating Someone
The person administering the vaccination should satisfy themselves the patient sufficiently understands the consequences of receiving that covid-19 vaccine and the vaccination procedure.
If someone lacks capacity, before the vaccination is carried out inquiries should be made concerning the patient's; a) acceptability to being injected, b) any previous adverse vaccine reactions, c) does the patient have a fear of needles, d) have they experienced distress from previous vaccinations, e) is there anyone involved in their care who should be consulted. If challenged the person administering the vaccine should be able to demonstrate the vaccination was in the patient's best interests.
Care Home Residents
The NHS has produced a 'Covid-19 vaccination consent form' relating to care home residents. It allows for HW attorneys to consent or decline consent for covid-19 vaccination of a resident. The form is then stored with the residents medical information. HW attorneys declining consent are required to provide the reasons for declining. The NHS have also produced a 'Relative of a Care Home Resident unable to consent for themselves' form. There is also forms for residents who can consent as well as relevant letters.
Refusing Vaccination
Reasons for a patient to decline vaccination may include vaccine contraindications or the patient's previous negative reaction to vaccinations. The individual may have expressed views, wishes, beliefs or values (religious, moral or ethical) on declining vaccination. Reference should be made to individuals holding an advance decision which declines vaccination.
Compulsory vaccination
There are no governmental provisions requiring someone to receive a covid-19 vaccine. Compulsory vaccination would interfere with an individual's autonomy under Article 8 Human Rights Act 1998 (HRA). For the vulnerable adult there is also a likely breach of Article 12 UN Convention on the Rights of Persons with Disabilities. Paragraph 25(b) says that, "All forms of support in the exercise of legal capacity (including more intensive forms of support) must be based on the will and preference of the person, not on what is perceived as being in his or her objective best interests". The patient with capacity can if they so wish for whatever reasons decline vaccination.
Mental Health Act 1983
Section 2 Mental Health Act 1983 (MHA) says individuals may be detained, "…with a view to the protection of other persons.". Vaccinating the patient with capacity under section 2 MHA against their will would need to justify an interference of Article 8 HRA. Reasons may include the individual is placing others at risk in that they are deliberately trying to infect others or catch covid-19 and that it is a proportionate response having exhausted all other options to isolate the individual concerned. There is currently no evidence that a covid-19 vaccination alleviates mental health conditions. The patient with capacity detained under section 3 MHA may not be vaccinated against their will unless a justification can be provided concerning interference with Article 8 HRA. The authority of an LPA attorney does not apply in regard to treatment or vaccine decisions for donor's detained under the MHA.
Fluctuating capacity
With the individual whose capacity fluctuates or lacks sufficient capacity to make some medical decisions but retains capacity for others, the question of declining vaccination is more complex. Here the HW attorney or HW deputy should explain the consequences of not receiving the vaccine to the patient, the common side effects, contraindications and provide them with suitable information of the consequences of declining vaccination. They should also be able to show how they assisted the person to decide.
Serious Medical Treatment and Advocates

In most instances patients with severe underlying health conditions who also lack capacity when vaccinated will be accompanied by a friend or relative. If the patient has no one an advocate or Independent Mental Capacity Advocate (IMCA) should be appointed. Advocates or IMCA's are required if there is a fine balance between patient treatment benefits and likely burdens and risks to them, where there is a choice of treatments and deciding between these, or where the proposed treatment would involve serious consequences for the patient. An advocate may also be required where there is no one accompanying the patient and the patient may be reluctant to receive the treatment.
Advance Decisions (Living Wills)
Has the person made an advance decision which specifically relates to refusing vaccinations?
To decline a medical intervention the advance decision (AD) should specifically refer to that medical intervention on the AD, if life threatening in writing. Unless an AD has been created after the start of the current covid-19 pandemic it is unlikely an AD will contain a specific clause regarding declining a covid-19 vaccine. AD's can refer generally to declining vaccinations which may be followed if applicable. Applicable means the reader can identify 'what is to be declined' and under 'what circumstances'. Even if the AD refers to declining vaccinations, there are circumstances where this may not be followed if there are reasonable grounds for believing the AD maker did not anticipate circumstances surrounding declining a covid-19 vaccine.
If the AD refers to vaccination declines in general the question becomes, does this refusal constitute a refusal of life sustaining treatment? If so then section 25 MCA is engaged. This states that an AD which declines life sustaining treatment should be in writing and witnessed. It should also state this treatment is declined, 'even if my life is at risk'.
An AD to decline treatment is not valid where the maker with capacity has changed their mind, has made an HW LPA which confers authority on their attorney to give or refuse consent to the treatment to which the AD relates to, or has done anything else clearly inconsistent with the AD remaining their fixed decision. If the AD maker retains capacity the AD does not apply. If they lack capacity and the AD does not specifically refer to declining the covid-19 vaccination it can still be used as an indication of their views and wishes.
Vaccination as Life Sustaining Treatment
The starting point for declining medical intervention is that, if declined would this constitute a life sustaining treatment decision. That is, by declining this treatment intervention, would this potentially place the person's life at risk? Advice should be sought from medical professionals as to is this a reasonably real risk or not.
If declining vaccination is not a life sustaining risk HW attorneys and HW deputies could decline vaccination. If it is found to be a life sustaining treatment decision the HW deputies may not decline vaccination and an application should be made to the Court of Protection. The HW LPA would need to specifically refer to declining that vaccination in which case the attorney can decline, otherwise they may not. In both instances the principles of MCA section 4 would need to be shown to have been applied.
Restraint and Vaccination
Restraint may only be used to vaccinate someone subject to MCA s.5 and 6. Before any restraint is undertaken the person considering restraint must demonstrate there is a reasonable belief the person lacks capacity in regard to that particular matter and it will be in their best interests for the restraint to be conducted. See also MCA Code of Practice paragraph 5.38 and its Scenario box. If vaccinating a patient lacking capacity restraint should be the last option. An alternative approach taken in Livewell Southwest Community Interest Company v MD [2020] EWCOP 57 may be considered. Mostyn J held that a dental procedure could be undertaken, …covertly… as the patient was know to physically resist treatment and may place others at risk. Consideration should be given to the practicality of this approach.
Restraint must be a proportionate response to the patient's likelihood of suffering harm and the seriousness of that harm. During the actual vaccination the patient's arm should be relatively relaxed. Moving their arm around can prevent a suitable vaccination site being identified and may lead to medical complications. Moving their arm around can also risk breaking the vaccination needle. To prevent such harms, for example comforting words and reassurances may be used, followed by more directing words encouraging the patient to remain still. Only once all other options have been exhausted may minimal restraint be considered. When restraint is engaged this must be fully documented, giving reasons to justify why it was used.
Advice where the is no HW LPA or HW deputy
If there is no health and welfare LPA or deputy in place the following advice should be considered by the decision maker. They should be able to show how they have applied the MHA section 4 (best interests principles). How has the person lacking capacity been involved in the decision making process. Has the patient provided any written documentation on their views and wishes over vaccinations. What are the beliefs of the person lacking capacity concerning receiving a covid-19 vaccine? Is there anyone who should be consulted to provide information to assist in determining is this in the patient's best interests? If the vaccine was not given what are the consequences for the patient and how much of this do they understand?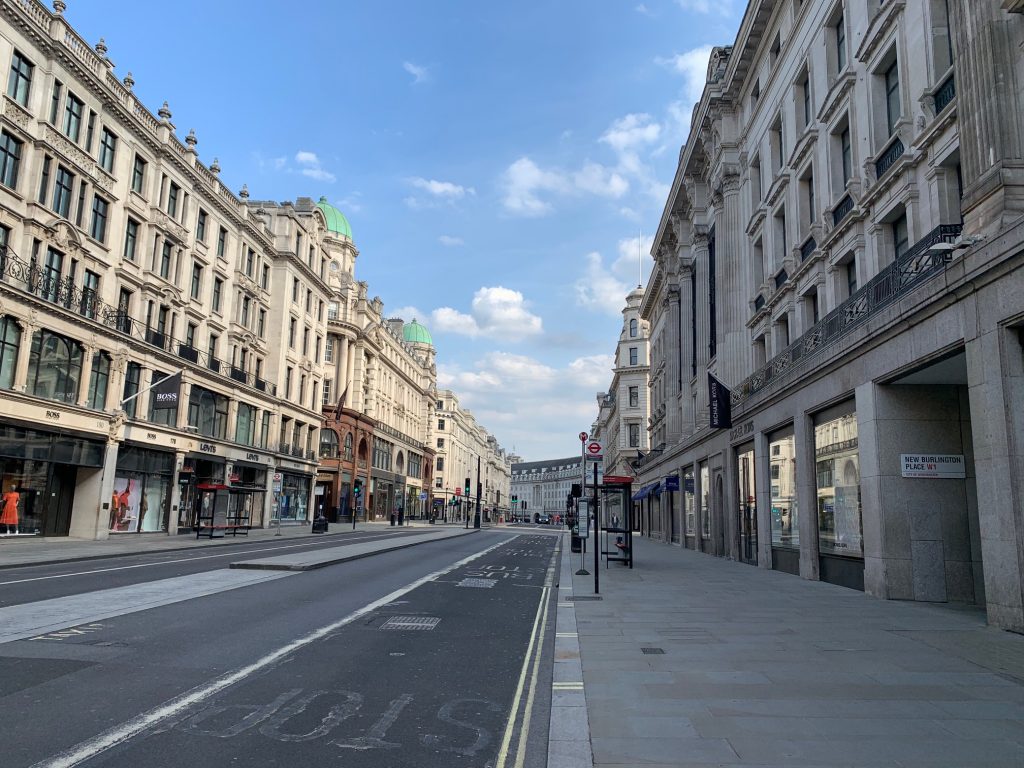 We're now moving to coming out of a complete lockdown into a half way position. This is quite relieving but brings with it even more vigilance. Craybeck Law is aware this is a critical time. We know that many care homes have sadly lost residents. We hear about friends who have survived the coronavirus and occasionally an upsetting story where someone has not.
We've been visiting clients across London taking suitable precautions as possible. The trains have been fairly empty with lots of 2m distancing. The central London streets are deserted with very few cars on the roads. And now the country is moving into a new lockdown phase.
Craybeck Law recognises there remains the need for caution, the 2m distancing and checking our health regualry.
One thing which we have found that's changed is that we're all walking more. Walking to places we thought we'd only drive to. Discovering more of our own localities than ever before. Post Covid-19 and there hopefully will come a time of post Covid-19, it's likely to be one of more walking and cycling.
We've added three new downloads to our Craybeck Law website; drafting Lasting Powers of Attorney, Business Lasting Powers of Attorney and making a Deputyship applications.
The Lasting Power of Attorney (LPA) booklets outline some of the difficulties individuals can find themselves in without a Lasting Power of Attorney.
The Deputyship booklet deals with situations where there is no LPA in place and there are financial decisions to be made, property to be sold or financial disputes to resolve.
Craig Ward, one of our solicitors has just finished updating his Law Society's textbook on drafting Lasting Powers of Attorney. This is now it's 4th edition. The aim is to publish this revised edition in October 2019.
The revised Lasting Powers of Attorney textbook from the Law Society covers the following points.
MCA 2005 principles
Assessment of mental capacity
Best interests
Taking instructions
Advice to the donor
Drafting, execution and registration
Resolving disputes
Attorneys and other decision-makers
Business lasting powers of attorney
Drafting a business lasting power of attorney
Objections, challenges and revocations
Advance decisions to refuse medical treatment
Enduring powers of attorney
Court of Protection deputies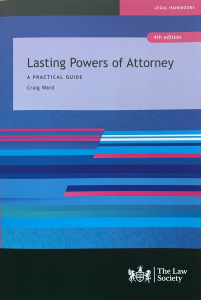 Lasting Powers of Attorney
A Lasting Power of Attorney or LPA allows you the donor to appoint someone you trust (an attorney) to make decisions in the future if you are unable to understand or decide for yourself.
Types of LPAs 
There are two types of Lasting Power of Attorney
Property and Financial Affairs LPA
Health and Welfare LPA
Although these are separate documents we would usually advise clients to make both of them together.
A Property and Financial Affairs LPA's is similar to Enduring Powers of Attorney. They grant authority to act on your behalf concerning your property, managing your bank account, paying bills or making other similar financial decisions. 
Whereas a Health and Welfare LPA grants authority to your attorneys to make; health, welfare, treatment and care decisions. This might be deciding if you need a certain kind of treatment, if you need an operation, what sort of care you may need whilst at home, whether or not you should move into a care home. It also allows your attorneys to make decisions where your life may be at risk. 
A Health and Welfare LPA may also be used to challenge a local authority or hospital if they wish to deprive you of your liberty, so they can provide treatment or care to you. If you are not able to understand or to decide for yourself, your attorneys can object on your behalf. 
In order to make an LPA, you must have sufficient mental capacity at the time of making one. If there are any concerns about this, it may be in your best interests that your GP is involved in making your LPA, acting as your certificate provider. A certificate provider is a further safeguard added by the Mental Capacity Act requiring someone such as a solicitor, GP or someone who knows you well, to sign to say there are no problems or issues with you making an LPA.
Making an LPA
There is a fixed fee for making both your LPA's of £650 plus VAT. If partners or a husband and wife want to both make LPAs the fee is £750 plus VAT. This includes advising you and your attorneys on how your LPA's may be used, what is meant by acting in your best interests and making assessments of your mental capacity, drafting both your LPA's including adding any conditions, restrictions or guidance where necessary and ensuring these documents are correctly made.
Craybeck Law will advise you on the following points when making your lasting power of attorney. Which clauses you may want to put into the preference or instructions boxes. Types of  financial clauses which you can include in a lasting power of attorney. Advising on drafting your memorandum of wishes. Making sure the relevant provisions in chapter 7 Mental Capacity Act Code of Practice are applied. Ensuring the appropriate sections of the Code of Practice are applied when choosing your attorneys. Explaining the relevant accounts rules regarding lasting powers of attorney. Conducting an audit of your financial / life situation to ensure you are suitably advised when creating your lasting power of attorney.
Before a LPA can be used it needs to be registered with the Office of the Public Guardian (OPG). This registration process takes between 6 to 12 weeks on average. The OPG charges £82 per LPA registered. So to register two LPA's it costs £164. 
A remission or exemption may be claimed off this fee. A 50% remission may be claimed for individuals whose gross income is less than £12,000 per annum. Where someone is in receipt of certain welfare benefits, they may claim an exemption off the OPG fee.
Certificate Provider
A certificate provider is an individual required as part of the LPA creation process. This person confirms the individual making the LPA (the donor) has sufficient mental capacity to make an LPA, also that there is no fraud, pressure or undue influence at the time the LPA is made. A certificate provider may either be an individual who is known the donor for two years or more. Alternatively it may be a professional such as a GP or a solicitor. On occasions a GP is asked to act as a certificate provider as this person best knows the donor.
Registering your LPA
Once you and your attorneys have signed your LPA, you or your attorneys may decide to register the LPA straight away or to wait; registration is with the OPG.
Your LPA is not usable until it has been registered by the OPG. Once registered if this is a Property and Financial Affairs LPA, unless you have said otherwise on the LPA, it may be used straight away, even before you lack capacity. Unlike a Health and Welfare LPA which can only be used once you are no longer able to decide. 
The registration process involves us completing the application forms and sending these with your LPA's to the OPG, notifying the person named on your LPA to be told you are registering your LPA, and managing any arising issues. 
If the person notified has any concerns they should bring these to the attention of the OPG or the Court of Protection. Registration takes a minimum period of six weeks, with registrations occasionally taking up to 12 weeks.
Once an LPA has been registered, the OPG cuts through it the words VALIDATED OPG. 
How your attorneys must act
Your Attorneys may only make decisions which you are unable to make yourself. This means that your attorneys must be aware of your level of understanding, together with  how you'd usually make decisions.
Where your attorneys are making decisions they must act in accordance with the Mental Capacity Act. Meaning they must make your decisions in your best interests, helping you where appropriate to make decisions yourself.
Your attorneys must also follow the Mental Capacity Act Code of Practice, in particular chapter 7. A copy of this Code of Practice may be downloaded from www.justice.gov.uk/guidance/protecting-the-vulnerable/mental-capacity-act/index.htm. 
If you have more than one attorney they may act either jointly, or jointly and severally. Jointly means that your attorneys must always agree on their decisions. Whereas jointly and severally means attorneys may make decisions independently of each other, usually having decided themselves how this will operate.
There are certain things which attorneys may not make decisions upon, these include making serious medical decisions or making a will for you. If you have not made a will and you lose mental capacity, a statutory will maybe created on your behalf taking instructions from your attorneys. Your attorneys are also prevented from giving away your money as gifts except in the following circumstances.  On customary occasion such as; birthdays, christmas or other religious events. The size of the gift must be in a proportion to your overall assets.
 Please be aware, you may cancel your LPA at anytime you so wish for what ever reasons, providing you have sufficient understanding to do so. Where there are problems or concerns about how an attorney is acting, this may be brought to the attention of the OPG.
Craig Ward of Lundie one of our solicitors wrote the book: Lasting Powers of Attorney: A Practical Guide (4th Edition) (2019) The Law Society.
Call Craybeck Law 
Call Craig Ward of Lundie, solicitor one of the partners at Craybeck Law on 0800 254 5262 and contact us for a further conversation about making your deputyship or statutory will application.